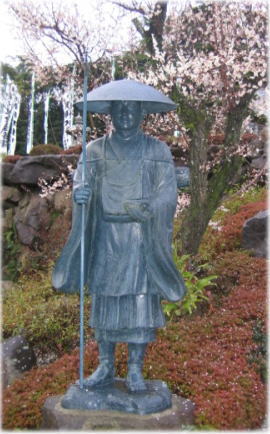 A statue of 修行大師(Shugyodaishi) is standing on the left side of steps leading up toward Kondo. It had been formerly placed at the entrance gate of the old Taishidou and was moved to the present place when the old Taishidou was closed due to the construction of Shakyo-Dojo. Considering this history, this Shugyodaishi has long been watching a transition of Seiryuji since the foundation.
 It is Shugyodaishi's bearing that directly represents Seiryuji's entire approach toward religious reform ; a strong will to pursue one's course in which he is convinced, not being easily deluded by humanlike greed and to practice every single religious conduct with an indomitable bodaishin ; and an attitude to redeem 衆生(Shujo) by bearing whole of one's body and soul while subordinating his own trouble or agony. This is how the statue of Daishi reflects the spirit of Seiryuji.
The statue of Daishi practicing religion carries 托鉢(Takuhatsu) and 錫杖(Shakujo) in his hands, possibly because of his waving in the breeze, looks as if he were walking in an invisible way and showing us a course we should take.