ΉŠΟ'‰Ή•μŽF
(Syokanzenon-bosatsu)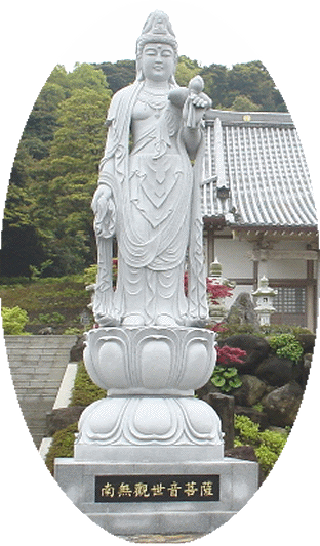 @On March 6, 2003, we saluted ΉŠΟ'‰Ή•μŽF'œ(a statue of Syokanzenon-bosatsu) from Xiamen in China. On the 7th, ŠJŠα–@—v(Kaigen houyou) was successfully conducted without mishap. The height of ŠΟ‰Ή—l(Kannon-sama, as same as Seikanzenon-bosatsu) standing on double pedestals is about 8 meters (26.5 feet). His merciful eyes and mouth with a subtle smile fascinate us so much that we often forget about the time.
@He has been worshipped by many people for a long time because he appears in many shapes in many places at will and gives them a helping hand. Merits of worshipping Kanzenon-bosatsu are written in "–­–@˜@‰ΨŒoŠΟ'‰Ή•μŽF•–ε•i'ζ"ρ\Œά" iMyouhourengekyo Kanzenon-bosatsu fumonbon the 25th) which we repeat. For example, even though an uncountable number of people suffer from difficulties and troubles, if they repeat ""μ–³ŠΟ'‰Ή•μŽF(Namukanzenon)sincerely, he hears it and relieves them from such plights. He also changes his appearance into what one person expects and preaches his teaching. Moreover, where people tend to sense fear and fright, he obviates such feelings by his great wisdom.
@We believe that the Kannon-sama in Seiryuji also keeps an eye on us with a heart of mercy and affection.